Both caskets were taken to the Castle via Hummer.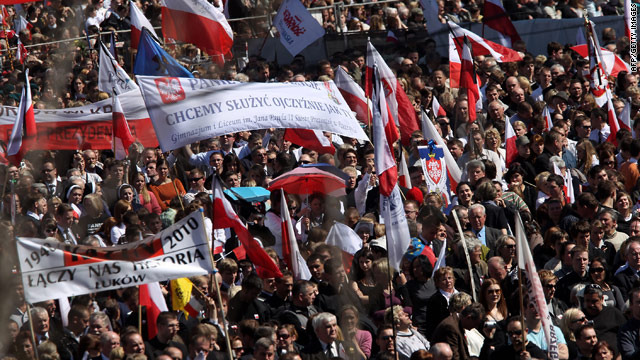 Countless flags were held up by onlookers as the President passed by.
The funeral mass was beautiful and sad all at the same time. Pomp, tradition and national pride was on display for the world to see. As the caskets were taken (by hummer) to
Wawel
castle, the crowd broke out in applause and then someone started the Polish national anthem. What an incredible site of national pride. I have not seen this outside of a soccer or a men's volleyball game. There are even more people in the square than I thought.
The flags and the flowers are too many to count. I am amazed at how many phone cameras are being used to take pictures of this most unique time of European history.
As the media zoomed in on the faces of Polish leaders, it was interesting how many emotions were shown. Polish politicians are known for showing no emotion at all. These death have brought an end to that. I hope it will be for a very long time.
They are now at the Peter and Paul church about 1/2 km from the castle and the multi-generational applause is amazing to me. Many youth have no idea what the history of this President was and his recent years have been full of controversy and division, yet today Poland is united.